While the liner notes don't indicate which of the songs were recorded in the wake of the Sept. 11, 2001 tragedy, the CD is dedicated to those who lost their lives and a good number of the songs are certainly representative of the strength of the nation in the days following the attack. But even without the dedication and positive message, there's enough good stuff here to make it worth the listen.
There's no shortage of great tunes and the CD offers something for all listeners. The harmonies are tight. The lyrics are well written and thought-provoking. The music is diverse. But there are a couple of standouts.
The title cut is a delightful story of a drunkard's good fortune on receiving a pair of magic, albeit well-used, shoes from the fairies. He finds that, once laced to his feet, the shoes create for him a paradise where all the ladies clamor to be his dance partner (and he dances "like Flatley" no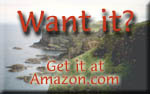 less), the whiskey flows like a river, and work is done by the rest of the world. Life is bliss, until he wakes to find it's only a dream and he's still the drunk he was.
On the other side of the coin, "Don't Take It for Granted" is a reality-based song chronicling the deeds and efforts of our ancestors from the coffin ships to the labor unions. The song serves to remind us all that our soft life was paid for by the hard work and blood our forefathers. Gives you plenty to think about.
Rounding out the offering, "Clear Mountain Aire" will get your toes tapping and is probably one of the best tunes I've heard featuring an accordion.
Considered one of the hottest Irish bands in the Philadelphia area, Blackthorn's fan base is huge and appears to be growing. The band is Seamus Kelleher (guitars, mandolin, vocals), John Boyce (piano, keyboards, mandolin, acoustic guitar, vocals), Michael Boyce (guitars, tin whistle, percussion, vocals), Mike O'Callaghan (drums, percussion, vocals), John McGroary (button accordion, harmonica, vocals) and Paul Moore (acoustic guitar, vocals).
Don't expect the typical canned "Irish" music from this band. They have so much more to offer.
[ by Sheree Morrow ]
Rambles: 4 May 2002