This offering from Brobdingnagian Bards contains 15 tracks of instrumental music, in spite of the title of the CD. Granted, a few are indeed songs, but all are played instrumentally.
Brobdingnagian Bards are Marc Gunn (autoharp) and Andrew McKee (recorder, mandolin), and they describe their sound as Celtic Renaissance. The description is apt, as the original compositions they perform mesh beautifully with the old selections such as the stately Renaissance court dance "Hole in the Wall," the lively old Irish rebel brigade tune "Some Say the Devil's Dead," or "Carolan's Concertos," composed by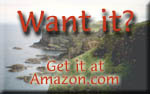 Turlough O'Carolan in response to a challenge to create a melody in the style of an Italian composer. You'd swear their "Maids in the Meadow" was a traditional tune.
McKee demonstrates the range of expression available on the recorder more than capably, from the sweet and melodic "Shepherd's Serenade" to the jolly and more staccato hornpipe "Harvest Home" to the drama of "O'er the Way." On this particular track, autoharp and recorder take turns with the melody line to haunting effect. Gunn;'s autoharp provides a rich and textured background to the recorder or, occasionally, the mandolin.
Overall, the selection and arrangement is appealing and cohesive. The Bards even lend freshness to that chestnut "Greensleeves," and they complement each other well.
My only complaint is the dearth of information in conventional locations such as the liner booklet or back cover insert, such as the names of the band members, what instruments they play and information on the tracks. All that is available if you drop the CD into your computer's CD drive, but that isn't always convenient.
If that's not important, however, this is a thoroughly engaging and appealing CD. It works very well as background music while working, but I also concur with the Bards' own recommendation: "Perfect of relaxing or falling in love."
[ by Donna Scanlon ]
Rambles: 12 January 2002