Novelist Carrie Brown offers seven slice of life short stories in this tender, muted collection.
The stories range in content, locale and texture, from a middle-aged couple's trip to a beach house to a miniature maker living on a hill in a Spanish village, from a widow's stifling relationship with her protective brother-in-law to an island house with a curious history.
The thoughtful stories are subtly written, at times opaque and thick with emotions and sensibilities that hover around the words. The reader gets a sense of needing to grasp something elusive, something that requires the reader's patience and concentration in order to reveal itself. Some of the stories are more engaging than others, however, and thus more accessible.
Brown has a remarkable talent for sliding into the skin of each narrator and creating a convincing voice for each story. It is hard to believe that the same person who wrote "Friend to Women," narrated from the point of view of a middle-aged married woman reflecting on the events that helped shape her, also wrote "Miniature Man." In this story, Brown takes on the persona of a doctor in a small Spanish village where a man tried to realize dream of opening a museum of miniatures, his own work.
Brown is equally successful in evoking an adolescent boy working at his aunt's pony camp in "Postman," a widow adjusting to her new status in "Wings" and a grandfather recounting a story about an unconventional family member in the title story, "The House on Belle Isle." The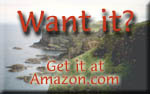 characterization of Lettie, the main character of "The Correspondent," seems to be a cipher nearly devoid of personality; she is a more difficult character to grasp. Similarly, it is harder to connect with the boy Lucullus in "Father Judge Run."
Brown also has a gift for evoking a sense of place. Whether describing a beach, a mountain village or a high-rise apartment in New York City, Brown sets the scene vividly. In a sense, the place is the story, the pivot on which each narrative turns.
"The House on Belle Isle" concludes and crowns the collection. The narrator, Louis, tells the story of his grandmother who was the undertaker for the island community off the coast of Maine. The tale is a lovely and bittersweet portrait of life and death and choices.
This collection is not for everyone; the plots are minimal and the focus is on mood, character and place. But if you are among those who savor such writing, this is the book for you.
[ by Donna Scanlon ]
Rambles: 25 May 2002