Teamed with the musical talents of Nancy Thym and Alison Bailey, as well as Florie Brown and Paul Espinoza (her partners in crime on the Golden Bough production), Margie Butler conjures the spirit of the ocean.
Selkies and sirens will not be not far away from your mind when you listen to The Magic of the Celtic Harp, Vol. II: Lure of the Sea-Maiden. Margie Butler's talent rings loud on these soft, airy and whimsical pieces, most of which originate from Wales, Ireland, Britain,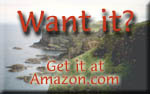 the Isle of Man and Scotland. Butler's own contributions, "Snow Geese" and "Swans Among the Rushes," fare well against these traditional tunes.
Butler makes her own special blend of magic upon a Celtic harp, harp-psaltery, wire-strung harp (or clarsach) and bray harp. As an added bonus, liner notes feature explanations of the various harps utilized, as well as the ancient Irish legend as to the origins of each instrument.
Not wanting this delightful fairy dance to end, I shall keep an ear open for Butler's previous two offerings: Celtic Lullaby and The Magic of the Celtic Harp, Vol. I.
Heed the siren's call -- this one promises no disaster, only pleasure.
[ by Lynne Remick ]
Rambles: 9 March 2002