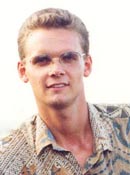 Although he still carries a Dutch passport, Carool Kersten has mostly lived overseas for the last 15 years or so, and considers himself a citizen of the world. He is now making a sincere effort to stay put in the northern Thai city of Chiang Mai.
Over the years he has studied Arabic, Islam, International Relations, Philosophy and Southeast Asian Studies. After obtaining master's in Arabic Language & Culture, he embarked on a chequered international career that has taken him to Egypt, Saudi Arabia and Thailand -- interrupted by short stints in his home country. Before returning to the world of academia, he has been a professional translator, management assistant, office manager, Arabic language instructor, Middle East consultant and human resourses manager. At present he is a lecturer in Asian history and resident director of a Study Abroad Program at a university in Thailand.
His eclectic research interests include Middle Eastern and Southeast Asian history, Islamic philosophy, comparative religion and travel writing. In the remaining time he likes to indulge in his addiction to reading, sometimes to the despair of his Thai wife Nida and children, Melanie and Christopher.
Carool welcomes reader reactions to his reviews at seekay2000@hotmail.com.
Reviews by Carool include:
Azam Ali
• Portals of Grace
Animus
• self-titled
Severin Browne
• This Twisted Road
Bubba Mac Blues Band
• Just Life
Buddhist Monks of Maitri Vihar Monastery
• Tibetan Mantras & Chants
Cascade Folk Trio
• Old Street
Richard Clayderman & Rahul Sharma
• The Confluence
Gevorg Dabaghyan
• Miniatures: Masterworks for Armenian Duduk
Darvish
• self-titled
Dromedary
• Artifact
Galina Durmushliyska
• The Enchanting Voice of Bulgaria
Ensemble Karot
• Vol. I
Mahmoud Fadl
• The Drummers of the Nile in Town: CairoSonic
Raymond Fairchild
• Plays the Classics
Pandit Kumar Gandharva
• Nirguni Bhajans
Gigi, with Bill Laswell
• Illuminated Audio
David Gogo
• Bare Bones: The Acoustic Blues
Corey Harris
• Mississippi to Mali
Jony Iliev Band
• Ma Maren Ma
Sunny Jain Collective
• As Is
Zohreh Jooya & Madjid Derakhshani
• Music of the Persian Mystics
Salif Keita
• Moffou
Shafqat Ali Khan
• Sublime Sufi: New Perspectives on Ancient Sufi Roots
• Sufi Songs
Habib Koite & Bamada
• Foly! Live Around the World
Pandit Mallikarjun Mansur
• Khayals
Metropolitan Klezmer
• Yiddish for Travelers
Natraj
• The Goat Also Gallops
Rick Neeley
• General Merchandise
La Nef
• Music for Joan the Mad: Spain 1479-1555
NuSound
• World Moods
The Otis Brothers
• Let's Go to Huntin'
Prasant Radhakrishnan
• Swara Sudha
Raj Rangayyan & Utpal Mazumdar
• If You Have the Time
Sarband
• Ballads of the Sephardic Jews
Serah
• Late Harvest
Ejigayehu "Gigi" Shibabaw, with Bill Laswell
• Abyssinia Infinite: Zion Roots
James Coberly Smith
• Cocomo
Merja Soria
• Arctic Silence
Victor Spiegel
• Evocation
Talisman
• Music of Russian Princesses: From the Court of Catherine the Great
Tinariwen
• The Radio Tisdas Sessions
various artists
• Festival in the Desert
• Music from Vietnam #5: Minorities from the Central Highlands & Coast
• Reves d'Oasis: Desert Blues 2
• The Rough Guide to Bellydance
• The Rough Guide to the Music of the Himalayas
• Smooth Africa II: Exploring the Soul
• The Sounds of the Western Sahara: Mauritania
Willie & Lobo
• Manana
Les Yeux Noirs
• Live
Jack Cavanaugh
• While Mortals Sleep
Scott C. Davis
• The Road from Damascus: A Journey Through Syria
Amitav Ghosh
• The Glass Palace
Bettye Hammer Givens
• The Diaries of Emily Saidouili
Daisaku Ikeda
• For the Sake of Peace -- Seven Paths to Global Harmony: A Buddhist Perspective
Richard Joseph
• Transcend
Jamal Sleem Nuweihed
• Abu Jmeel's Daughter & Other Stories: Arab Folk Tales from Palestine & Lebanon