Rachel Davis,
Rachel Davis
(independent, 2010)

---
I wasn't having a very good week. To be honest, I wasn't paying much attention when I picked up a CD from the waiting stack and slid the disc into my car stereo.
Within minutes -- perhaps even seconds -- I was tapping my foot. My mood had measurably improved. The day was looking up.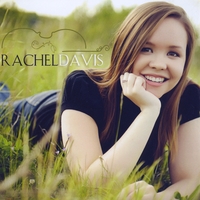 I owe my thanks to Rachel Davis, a 20-year-old fiddler from Baddeck, Cape Breton. And, although this self-titled CD is her first, it wasn't my first exposure to this young firecracker; we met in October 2007 in the green room at the Celtic Colours Festival Club, where I had the good fortune to interview her as an up-and-comer of the Canadian maritimes.
Fair's fair, and I'll admit that it's not Davis alone that had the power to lift me out of my doldrums. A well-played Cape Breton fiddle will almost always have that effect, and there are plenty of fiddlers on that magical island to fit the bill. But it's a testament to the thriving tradition -- and, of course, to Rachel's own skill and dedication -- that this young master of the craft has risen so far, so fast.
Backing Davis on this recording are a number of Cape Breton luminaries, including Tracey Dares-MacNeil and Joey Beaton on piano and Buddy MacDonald on guitar. Meagan Burke adds her own fiddle to Rachel's on the final, live-in-the-studio track, which includes a march, two strathspeys and several reels. The pace of the album is nicely balanced, with a few slow tunes, such as J. Scott Skinner's "Hector the Hero," fitting comfortably in with faster sets like "Dan Hughie & Buddy Jigs," "In the Driver'ers Seat" and "The Rights of Man on the West Side."
"Tunes with Grampy" is an especially poignant piece, as Davis sits down to play with her grandfather, Clarence Long, who she has always cited as her major influence, to run through a jig set. Nice touch!
Davis redirects the spotlight on "Dh'fhalbh mo run 's dh' fhag e 'n cala," which translates as "My Love Has Left the Harbour." If the title isn't a giveaway, the album's only song is in Gaelic, and Davis -- aided and abetted by a gang of Cape Breton's Gaelic-speaking population, including mother Pauline Davis and grandmother Anna Long, on the choruses -- gives sweet voice to the wistful words.
I've been waiting for a recording from this young fiddler since I first heard her play in 2007. I'd say her CD debut was worth the wait -- but I don't want to give Rachel the notion that it's OK to keep me waiting this long again. I hope this is the first of many excellent recordings, and I'm thrilled to know Rachel Davis is carrying this rich musical tradition forward into the next generation.





Rambles.NET
review by
Tom Knapp

13 March 2010


Agree? Disagree?
Send us your opinions!