This enchanting book is a lovely mix of children's tale, art book and coffee table conversation piece. Terri Windling's story and Wendy Froud's handmade dolls blend beautifully into a book that will be loved by both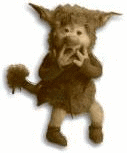 children and adults.
The story follows young Sneezle, a young tree root faery who is excited about staying up for the Midsummer faery celebration. In his efforts to help with the preparations, he ends up bumbling, stumbling and making mistakes so that those he wanted to help send him away. Saddened, Sneezle wanders off to have his dinner, and is caught on the poor end of a trade with a pretty handmaiden, Rianna. This leads him to a friendly encounter with a troll, and an important charge to King Oberon's tailors.
He meets Twig, another young faery, who has been given a command by King Oberon. In taking on her task, Sneezle becomes a most unlikely hero. Not only does he help his friend Twig, but he also saves the Midsummer Night celebration! However, to tell any more would spoil the charm and mystery of the tale.
Sneezle is an adorable hero, admirably created both in words and pictures. The beautiful photographs of Wendy Froud's dolls are charming, evocative and realistic, exactly as I have pictured faeries. They reminded me very much of the etherealness of the Gelflings from The Dark
Crystal, also part of Wendy's creativity. The delicate costumes and varied faces add to the true feeling of the tale. I especially enjoyed the varied guises of Titania's magical handmaidens.
The story is also exciting, eliciting remembrances of varied fairy tales and legends. Windling's background in mythology and folklore is evident as the reader is reminded of various hero quests, as embodied in Sneezle's bravery and cleverness. Certain magical themes, such as meeting three helpers on the quest, and the use of nuts, berries and pebbles as magical artifacts, are recognized by the reader and add a sense of comfort and familiarity to this completely new tale.
I highly recommend this book for both adults and children, and it will make an admirable addition to the collection of faery lovers.
Wendy Froud and Terri Windling are on a book-signing tour promoting A Midsummer Night's Faery Tale. Tour dates can be found at both Terri's and Wendy's Web sites.
[ by Beth Derochea ]