When I put on a CD by Dan Lambert, I expect certain things. I expect to find myself enchanted and warmed by the music he creates. I expect beauty and poetry in the music. And with The Blue Hand, he does it again.
"The Blue Hand" drifts in with a strange and regal beauty, like the hand of a ballroom dancer. "One Title Word" is also a dance, a celebration of life. "Turning Green Blues" is an amazing slice of the blues, and I can almost see the musician sitting on a lilypad. There are dogs and children at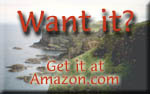 play in "3 Dogs, 2 Hands" and "Running in Shallow Water." "Helicopter Heaven" somehow manages to show exactly that -- a paradise for helicopters.
In "Juan the Fiddler," Irish tunes are adapted to a Mexican style of guitar play. "The Vigil" takes you to a small, candlelit room. From there we get to see the sunrise in "East of Hope," followed by a country dance in "Twin Forks."
"Dances with Himself" is a beautiful salute to fellow musicians. I can almost feel the North Wind in "Howling Wilderness," a song of the tundra. A musician follows his muse in "Jam in the Basement," while "Once a Minor" is a powerful tune that warms you and leaves you feeling good. The CD ends with a dance of joy in "The Old Country."
I have said it before and I will say it again: take the time to listen to Dan Lambert. He is an incredible musician and he proves it again with The Blue Hand.
[ by Paul de Bruijn ]
Rambles: 30 May 2002