Was it hot Sunday evening? It's quite possible thousands of people on the Long's Park lawn in Lancaster, Pa., didn't notice.
Although it was still above 90 degrees in the shade when the music started shortly after 7:30 p.m., the dual fiddle wizardry of Natalie MacMaster and Donnell Leahy was like a refreshing breeze over the crowd even as the married Canadian pair heated up the stage at the Long's Park Amphitheater.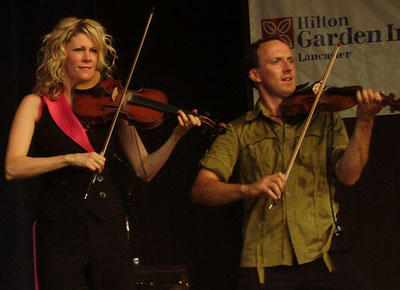 Sunday marked the second week of the 13-week free concert series at the park.
The show began with a Cape Breton medley of tunes, evoking the sounds of MacMaster's Nova Scotia home where she started playing the fiddle at age 9. After seeing her play Sunday, you might think she was born with a bow in her hand.
Leahy, the oldest sibling in the musical Leahy family from rural Ontario, matched his wife note for note, charging through the music with relish.
The couple demonstrated amazing synergy, tossing tunes back and forth between them, sometimes sharing melodies or harmonizing to one another, occasionally stepping back and allowing the other the full glare of the spotlight. And the audience didn't waste time, either, clapping and dancing from the very first set.
"It's always a treat for the two of us to share our passion in life, which is music, and go out on tour together," MacMaster told the crowd. "This is very much a family affair."
Sunday's playlist ranged wildly, from "Tullochgorum," one of Cape Breton's signature fiddle tunes, to the frantic "Orange Blossom Special." For the "Anniversary Waltz," the wildly dancing crowd was replaced by a small group of graceful waltzers.
For some tunes the couple stood -- or danced -- while for mellower sets they sat and relaxed into the music. One tune set, dubbed "Madness" by the band, is "a little chaotic," MacMaster said. "Everybody's going to do something a little bit different. It changes every night."
Despite six years of marriage, both fiddlers maintain busy touring schedules individually, and joint performances such as Sunday's are still rare for them. Their children -- Mary Frances Rose Leahy, born in 2005, and Michael Joseph Alexander Leahy, born in 2007 -- watched portions of the show from the foot of the stage, huddled in their young babysitter's arms where MacMaster could keep a maternal eye on them as she played.
The two fiddlers not only shared the spotlight with each other, but also with their touring band: J.D. Blair on drums, Erin Leahy on piano, Sabin Jacques on accordion and 14-year-old Nathaniel Smith on cello.
Calling it a Celtic music show was selling it short. Sunday's performance incorporated elements of classical violin, ragtime piano, Quebecois accordion, rock 'n' roll, even an exhausting tap-shoe-and-drum set and a little vocal percussion. For the audience, it all boiled down to an excuse to dance.
"It's good. It's fun," said 7-year-old Hannah, the enthusiastically dancing daughter of Rob and Kathryn Kapchinske of Lancaster. "It's kind of..." -- Hannah groped for words, waving her hand in the air until she grinned and finished -- "real loud."
"The beat is great," said Nina de Vitry, nearly 11, who was dancing up front with pal Emma Rast, 12. De Vitry, of Lancaster, has been studying violin for four years, and has started playing fiddle styles over the past six months. Sunday's performance has inspired her to new heights, she said.
"It's fun to dance with your friends," de Vitry said. "And when the musicians ask you to dance, you can't say no."
The small dance floor at the foot of the amphitheater stage was packed for much of the performance by those who knew traditional Scottish and Irish dance steps and those who just wished they did, plus a fair number of people who just couldn't resist moving to the infectious, can't-sit-still melodies. And the audience wasn't alone in dancing. MacMaster and Leahy are both accomplished stepdancers, and both did their share of fancy footwork on the stage.
"We love it," MacMaster shouted. "Anybody who has got something to share, come on down here. If you're a little shy, go dance under a tree."
For 16-year-old dancers Lauren Tanking and Brigette Bircher from the Coyle School of Irish Dance in Harrisburg, the show became a night to remember when MacMaster leapt from the stage to dance a few rounds with them, arm in arm and kicking high.
"It was amazing," Tanking said.
Both teens grew up with the music, they said -- Tanking in her Irish immigrant grandparents' home, Bircher from her mother, who was also an Irish dancer. Bircher also got the chance to dance with MacMaster once before, several years earlier at a solo show at the Whitaker Center in Harrisburg.
"We didn't expect that," Bircher said of MacMaster's sudden appearance between them. "It just happened."
by Tom Knapp
Rambles.NET
14 June 2008