This tune book is filled with jigs and reels. Thirty tune bounce out at you; twenty are traditional, five are from Arlington, three from Malbrook, and two from Batchelder. All are arranged by Ed Munger, who taught guitar and voice at the Ed Munger Music Studios.
This is one of Mel Bay's Classic Editions series, which is most likely why the book feels good. A thick, textured cover, strong, cream-coloured pages with unclutterd music and short, precise direction on each page makes for a professional presentation. You'll enjoy picking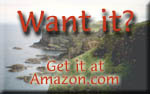 this book up, flipping through its pages and placing it sturdily on a stand.
Irish and Scottish tunes -- plus one for a banjo -- are all up for grabs here, but you'd better know how to play guitar first. This is not a step-by-step instruction booklet, but a tune book for those ready to attempt some lively renditions of this classic music.
There are no lyrics included with any of these tunes. A few of examples of what you'll find are "Miss Macleod's Reel," "Speed the Plough," " Paddy O'Rafferty" and "Kinloch."
I think this is well put together with a strong Irish sound to the arrangements. The book is a hearty addition to the tools of Celtic exploration that many musicians are experimenting with. And this was not easy for me to say, as I did not appreciate or enjoy the last Mel Bay purchase I made, which did not contain inside what was printed on the outside. This book, however does, and the tunes are fine.
[ by Virginia MacIsaac ]
Rambles: 5 January 2002