Tom Knapp is the founder, editor, publisher, designer, dishwasher, investor, dog groomer and chief writer for Rambles.NET. He also is a newspaper reporter and freelance writer in Lancaster, Pennsylvania, where he amuses himself playing Irish, Scottish and Maritimes tunes on his fiddle, bodhran, CD player and car stereo.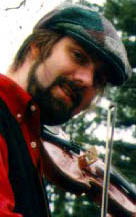 Determined to share his music in as many ways as he can possibly imagine, he formed Fire in the Glen, a regionally prominent Irish traditional/Celtic eclectic trio with five CDs and a varied performance schedule under its collective belt. Having worked with several partners in the past -- John Varner, Chet Williamson, Jason Mundok, Aaron Gagne, Michael Filippo, Amanda Wells and Durelle Leaman -- Tom now is happily performing with Mick and Megan Mullen.
Tom is happy to be the father of two impressionable children -- no longer all that young -- Vinnie and Molly. These days, he shares his home with a dog, Charley. (Morgan, Tom's beloved canine companion for more than 15 years, as well as his dog Casey and his cats Puck and Marlowe are now waiting for him on the other side.)
A wild Celt by nature (and proudly eccentric), Tom collects swords and other sharp, pre-gunpowder implements of destruction, which he stockpiles against the day the Romans, Saxons or Normans (re)invade. Although he is well-versed in several brands of computer, he is a proudly devoted Mac head.
Tom can be reached via email at tknapp@rambles.net.
Editing and publishing Rambles.NET each week keeps Tom plenty busy, but he hasn't let that interfere with his writing. (Yet!) You can see lists of Tom's reviews, interviews and essays by clicking on the menu selections to the right. Thanks for visiting!


music