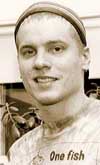 Tom Schulte has been an avid music collector, pursuing the furthest reaches of diverse genres. After taping every record he could not buy, Tom entered high school with an appetite whetted for music exploration. He was second chair in his high school orchestra and remains an avid patron of symphonic and operatic music today. A gamut of punk rock and heavy metal bands followed. His final project, The Scruffy Tearaways, played all major Great Lakes-area cities as peers on the then burgeoning "crossover" or "metal core" scene.
Immediately after high school, Tom began chronicling his adventure through music with a weekly column in Jam Rag magazine of Detroit, Mich. This column, Outsight, has run in several publications across the United States and Canada since 1989, growing into Outsight Communications, a content provider that provided or provides material for CDNow, All-Music Guide, MTV.COM, womanrock.com and more.
Tom's experience in broadcasting began with the microwatt revolution and broadcasting on WCPR Radio Free Detroit. After guesting on various shows, he obtained a Thursday morning drive-time program on WPON-AM (Pontiac, Mich.). After using this program as a platform for sharing new music discoveries for over a year, Tom went on to be the evening and weekend substitute host for WDET-FM Detroit Public Radio, one of the Top Ten Public Radio Stations in the country. Parallel to this, Tom began an Internet Radio program in early 1998. The show, Outsight Radio Hours, is produced from Tom's home.
Tom works as the DJ and engineer, applying the training he acquired at the state-of-the-art WDET studios. Tom's show always features new recordings touched on in his column. Each show includes a representative live interview with an artist from one of the new releases. Past guests on the eclectic program include Les McCann, Scanner, Billy Sheehan. Duke Fakir (Four Tops) and more. Tom has been involved in Internet technology since acoustic modems and the Freenet. Today, he is a senior application developer engineering and custom-building Internet solutions for automotive industry manufacturers and suppliers at Plexus Systems. As a person that spends his free time exploring new music and collecting vinyl, Tom sees Internet radio as a perfect synthesis of career and extracurricular interests. Also, he would love to tell you about his reading list and latest chess strategies.
Reviews by Tom include:
Bobby Bare Jr.'s Young Criminal's Starvation League
• From the End of Your Leash
Benny & the Jets Band
• Merry X-mas
Precious Bryant
• Fool Me Good
Alex de Grassi & G.E. Stinson
• Shortwave Postcard
Dengue Fever
• Dengue Fever
Aiyb Dieng
• Rhythmagick
Miles Donahue
• Standards: Volume I-IV
The Duhks
• The Duhks
Bela Fleck & the Flecktones
• Outbound
Folk Implosion
• The New Folk Implosion
Furious Billy
• Sissyfoot
Jay Geils, Duke Robillard & Gerry Beaudoin
• New Guitar Summit
Joe Hall
• Travelling Without Deoderant: The Best of Joe Hall (1972-1988)
Steve Hancoff
• The Single Petal of a Rose
Ralph E. Hayes
• Long Drive Home
Kevin Hearn & Thin Buckle
• Night Light
David Jacobs-Strain
• Stuck on the Way Back
Kris Kristofferson
• Third World Warrior & Repossessed
John Latartara & Khristian Weeks
• With for Intoned
Arto Lindsay
• Invoke
Little Wings
• Magic Wand
Hank Locklin
• Generations in Song
Harry Manx & Kevin Breit
• Jubilee
Mike Marshall & Darol Anger
• The Duo Live: At Home & On the Range
Deltahead McDonald
• Blues on the Slide
Joni Mitchell
• Travelogue
Van Morrison
• Down the Road
Sinead O'Connor
• She Who Dwells...
Pinetop Perkins
• Ladies Man
The Proclaimers
• Born Innocent
Nina Simone
• The Lady Has the Blues
Luciana Souza
• Brazilian Duos
Leni Stern
• Finally the Rain Has Come
Townes Van Zandt
• The Best of Townes Van Zandt
various artists
• It's a Team Mint Xmas, Vol. 2
• Protest: Songs of Struggle & Resistance from Around the World
• Shout, Sister Shout: A Tribute to Sister Rosetta Tharpe
• Songs & Ballads of the Bituminous Miners
• The Story of the Blues: From Blind Lemon Jefferson to B.B. King
• Swing Era
Tom Waits
• Real Gone
S. Jason Black & Christopher S. Hyatt
• Pacts with the Devil
Vladimir Bogdanov, Chris Woodstra & Stephen Thomas Erlewine, editors
• All Music Guide to Country
David Colbert
• The Magical Worlds of the Lord of the Rings:
The Amazing Myths, Legends & Facts Behind the Masterpiece
Wayne Erbsen
• Log Cabin Pioneers: Stories, Songs & Sayings
Randy Halberstadt
• Metaphors for the Musician: Perspectives from a Jazz Pianist
Allan Metz, editor
• Blondie, from Punk to the Present
Jesus Muhammad-Ali
• The Evolution of the Nation of Islam
Martin Roach
• Morphing the Blues: The White Stripes & the Strange Relevance of Detroit
Chuck Sher & Larry Dunlap, editors
• The All-Jazz Real Book
Robert Anton Wilson
• The Walls Came Tumbling Down
Howard Zinn
• Terrorism & War
Albert Collins: In Concert
The Doctors: 30 Years of Time Travel & Beyond
Bobby Hutcherson & Flora Purim: Cool Summer, Vol. 3
Iggy & the Stooges, Live in Detroit
Candye Kane: In Concert