Charlie Zahm,
Nothin' like the South
(independent, 2013)
---
When Charlie Zahm first came to my attention about 1997, he immediately became one of my go-to-guys for Celtic music. I really liked the type of music he performed, and his rich baritone voice and skill on a variety of instruments really drew me in.
In the ensuing years, I retained my love for Celtic music, but Charlie moved on and he's dragging me with him. Somewhere along the way he added maritime music, then hymns, Civil War songs and western songs. Oh yeah, he has written and composed dozens of songs himself. Don't you just hate a guy with that much talent?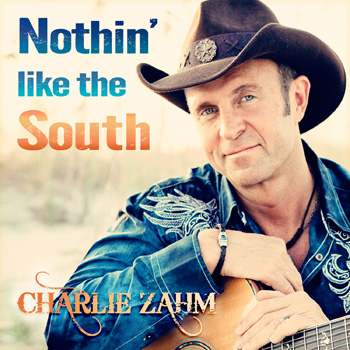 Now, Charlie has taken off in an altogether different direction. His just-released CD Nothin' like the South, complete with a picture of the artist in western shirt and cowboy hat, is a mix of songs that defy any easy definition. When I asked Charlie about this relatively new genre, he said, "When I wake up in the morning, this is the music I hear."
The title song is a paean to the laid-back life in Dixie. "Hello Pensacola" is Charlie's happy recollection of his second boyhood home, and the picture it paints makes me want to drive on down to see the town myself. Oh yeah, he says the song came to him "entirely during a 30-minute drive." It "came so fast I just sang it into my phone; it was already written when I got out of the car."
Two of the disc's 11 tracks are tributes to the men and women of the military. Charlie says "Prayer for a Soldier" was inspired by his friends who are heroes at "Operation Restored Warrior." The second, "(Yellow Dog Named) Ben," acknowledges that a soldier who does not return affects not only his family, but also a beloved boyhood pet. These two songs will affect the listeners also.
"Caribbean Cowboy" does for southern coastal areas what Jimmy Buffett did for Margaritaville and Tequila. Another pleasant surprise is "Bayou Betty." It's proof of Charlie's musical genius that, not only does he sing like he's been doing zydeco tunes all his life, but the words and melody truly capture the flavor of southwestern Louisiana.
Charlie admits he wrote some of these love songs for his wife, Cathy. "Cowboy's Bride" shows not only his love for his wife but also the cowboy's way of life. "Bushwacker" is Charlie's "musical homage to the greatest of all Pensacola drinks: the Bushwacker."
The CD was recorded in Nashville and produced by Chris Nole and backed by a group of accomplished musicians. Oh yeah, did I mention it earlier: Charlie wrote all these songs himself?
A reviewer once wrote of Charlie Zahm, "Listening to him sing Scottish and Irish music is like a deep draught of a thick heady stout, rich in taste and body ... smooth and sweet, yet intoxicating all the same." Considering the body of his work since those words were written, Charlie has captured the spirit of so many facets of Americana and set them to very listenable melodies.
What's next, Charlie? A symphony or an opera? You've mastered just about everything else in the world of music and done it extremely well.
Nothin' like the South is a must-have CD if you want the complete Charlie Zahm experience. After all, he wrote it himself.
[ visit the artist's website ]