The Atlantic Provinces -- comprising the Maritimes (Cape Breton, Nova Scotia, Prince Edward Island and New Brunswick) and Newfoundland -- are global hotspots for Celtic and Celtic-influenced music. These regions on Canada's eastern coast, settled primarily by immigrants from Scotland and Ireland, held tightly to their roots even as they expanded and evolved (and drew heavily on the influence of the sea for inspiration). In recent years, the world has finally taken notice. Enjoy!
CD REVIEWS
A B C D E F G H I
J K L M N O P Q R
S T U V W X Y Z
One of the best Celtic/folk music festivals in the world is Celtic Colours, an international event held each October in breathtaking Cape Breton. For coverage of each year's performances, beginning in 2000, just follow the link below.
Hey! One of the more popular sections of Rambles.NET is the Maritimes music department, which features the talents of Cape Breton, Nova Scotia, Prince Edward Island, New Brunswick and Newfoundland. (Newfoundland technically is not part of the Canadian Maritimes, but the music shares a kinship so we slip it in there anyway.) This subset of Celtic/folk music is wildly popular and features the work of some astonishingly gifted performers, but it doesn't always get the same level of attention as its Irish and Scottish brethren. And, sadly, recordings of the music can often be much harder to find outside of the Canadian provinces. Hence, we often get letters from readers asking where they can buy this great stuff, and often, we don't know where to send them.

Now we do. The Blue Heron Gift Shop, sitting on the picturesque main street of Baddeck in central Cape Breton, specializes in, well, everything I just told you about. And they're online, so you don't have to go to Cape Breton -- although I highly recommend doing so. Anyway, we would like you folks to get to hear all the cool music we're telling you about, so if you have a hankering for a little Maritimes music, drop the Blue Heron a line. Tell 'em Rambles sent you.




advertisement
You can check out our latest act prep and toefl ibt practice exam written by our certified teams to help you pass gre prep course. You can also purchase ccnp switch. Our N10-005 is simply excellent in quality.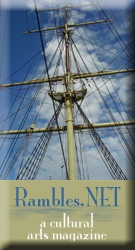 ---


Having trouble finding Canadian music online? Check out Amazon.ca, the Canadian branch of Amazon.com!