Most folks who knew her, knew her as Anne.
Anne Fridinger went by a few other names. She was Mother -- never "Mom" -- to one person. To her own mother -- and to no one else -- she was Anna, the name she was born with but didn't really like. For reasons I never understood, my brothers, my niece and nephews, even my own children called her Bobbie.
To my wife and I, she was Grandma, or Gram.
And to her husband, Victor, who died more than 50 years before her, she was "Hon," a name that, because of the stories Grandma used to tell, carries more weight to me than any other term of endearment.
Grandma lost her husband to cancer in 1960, six years before I was born. By all accounts he was a remarkable man. Since childhood, I have keenly felt the loss of never meeting him, although he came to life for me through her stories. She remained true to her husband 'til the end, often talking about him as if he had just left the room. She wore her wedding ring, a simple gold band, her entire life, and she was often content to be known as Mrs. Victor Fridinger.
As she told it, she was 16 when she first laid eyes on the son of a visiting preacher and immediately whispered to a friend, "That's the boy I'm going to marry." They had a hard but wonderful life together, one product of which was my Mom.
Grandma told me, once or twice, that it was lonely sometimes after he died.
But the idea of dating, much less getting married again, was far from her mind. She loved her husband with a rare devotion. They were true soul mates, and I'm comforted now to think they're finally together again, and this time forever.
One might think Grandma would have longed for death. More than 50 years without her husband, she might have wanted nothing more than to join him in whatever waits for us on the other side. But no. Grandma knew Vic Fridinger was a patient man, and meantime she had work to do. Not the mundane work that pays the bills -- although she was very proud to be a certified dental assistant, a job she held for many years, as well as a tax collector and a notary public. No, she had a family to raise -- her daughter and son-in-law, the three grandsons that followed and, eventually, a couple of granddaughters-in-law. Her own widowed mother, who lived with Gram until her death in 1988, was a constant companion and, toward the end, needed much care.
Eventually, six great-grandchildren came along, and Grandma loved every member of her growing family with a deep, steadfast and unselfish love. (Never overly fond of animals, she even grew rather attached to a couple of dogs that joined the clan along the way.) She loved telling stories, and she loved to hear about what we were doing. She had a beautiful smile and a rich and infectious laugh. She had a devilish sense of humor, and she was terrible at telling jokes. It never mattered, she laughed all the same, and we couldn't help but laugh with her.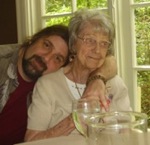 "That's the story," Gram would say.
She never wanted to leave us, and we never wanted her to go. But time isn't always on our side, and 94 years weigh heavy.
A stroke just a few weeks before her 93rd birthday began her decline. Still fiercely independent, she was forced by medical necessity to leave her beloved Mountville, Pa. -- the town where she was born, where she worked and raised her family, where she cooked countless hearty meals and baked the tastiest pies, and where she hoped to live out her final days in that big old Main Street home, always dressed to the nines and with her hair just so -- in order to receive round-the-clock professional care.
It was a rough year, as Grandma's health continued to fail. Even up to the very end, she would smile to see anyone from her family come into the room. She would ask how we were doing. She would tell us she loved us, even when she could barely find the strength to speak.
More than once, during many a night-time vigil by her bedside, she told me to go lie down because I looked tired.
She received amazing care in a succession of locations, from the Lancaster Rehabilitation Center, where she spent her first weeks after the stroke, to Oak Leaf Manor, a retirement home in Landisville, to the amazing 7th Lime nurses and the palliative care team at Lancaster General Hospital. She was briefly in the care of the Mount Joy Hospice Center, then found a new and final home in the skilled care wing of St. Anne's Retirement Community, just a mile or so down the road from where she was born.
She died there at 11:50 a.m. Monday, June 4, 2012, with her daughter and son-in-law by her side, my mother's hand holding hers as Gram drew her final breath. She was laid to rest the following Thursday, under brilliant blue skies and dramatic clouds -- her favorite kind of day.
Somewhere, Gram is holding hands with her husband at last, and they're watching us together. I'll miss her terribly, but I will continue to live my life in a way I hope makes them both very proud. And someday, hopefully many years from now, I'll see her again, and she'll take me in her arms and say, "Tom, this is your PopPop."
by Tom Knapp
Rambles.NET
6 June 2012