Charlie Zahm was about 13 years old when he started singing "Loch Lomond" while bicycling down a quiet lane on an island off the Florida coast.
"I suddenly realized that no one outside my family seemed to know that song," Zahm recalls. "I realized then that, for all my life, music would be very important to me. Making it my livelihood was a longer journey. When I was 17, I seriously started playing the guitar again. I'd had a couple of aborted attempts earlier. But I never set out to play as much as I do."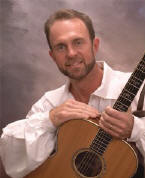 While other teenagers were focusing on the latest Top 40 hits, Zahm was building a repertoire of traditional Irish, Scottish and Maritime songs. "A lot of kids want to be rock stars," he said. "Few want to be a traditional folksinger. But rock music never had much of a grab on me. I never owned any Beatles records. And music on the radio back in the '70s and '80s -- well, a lot of it stunk."
Zahm became fascinated with the history behind traditional songs, both of the people writing them as well as the people they were writing about and the times that generated so many long-lived ballads.
"The history is very important to me," he said. "What I'm doing now is a function of how much I put into it. I've really worked hard. I love it so much, it's an all-encompassing passion."
Eventually, that passion jelled into a career that has made the 6-foot-4 baritone a familiar figure on the Celtic festival circuit and in concert halls all across the United States. "It just became very much who I am, slowly and gradually," he said. "I never actually decided I wanted to be a folksinger."
Now 37 and living in the Philadelphia suburb of Narberth, Zahm admits that his listening habits run a narrow course.
"I don't have a wide variety of musical tastes," he explained. "I pretty much just like traditional English-language folk music."
Zahm has recorded 15 CDs to date. Besides songs from the Celtic traditions, he also sings ballads from early American history, particularly the Colonial and Civil War eras. At the drop of a hat, he can spin a conversation off into a variety of historical, socio-economic, political and cultural analyses of any number of traditional songs and the period in which they were written.
Although primarily a singer of established folk songs, Zahm is also an accomplished songwriter. Most of his songs sound authentically traditional. The story, he said, is what makes a new song work.
"The story has to be well told," he explained. "You have to tell the story with emotion. There has to be suspense in there somewhere, and a change in the fortune of one of the characters."
The 3/4-minute rule of radio airplay does not apply to folksingers, he noted. "But you can tell a whole story in five minutes."
He writes songs without knowing at the start where the stories will take him, he admitted.
"The songs that appeal to me have a movie playing in my head while I'm singing it. I can see it as I go," he said. "And when I'm writing, I can also see it as I go, and often I don't know how it's going to turn out until I get there. It just unfolds and all of a sudden I have five verses."
Stories are about people, he noted, and that's as true today as it was centuries ago. That's why he enjoys meeting and talking with people at his shows, particularly when they want to share memories of their own lives or stories passed down from their ancestors. "There are a lot of very personal, interesting elements that enter into the conversations I have with people after my shows," he said. "I can listen to them all day."
Zahm is writing less since his daughter was born, he said. "I spend a lot of waking hours with her. But I didn't get into music to write songs. I don't need to tell the world what I think. What appeals to me is the history, and I like to tell older stories."
Although he has less time for writing these days, Zahm isn't worried that his creative well has gone dry.
"The well is full," he said, with a hearty laugh. "There are a lot of songs I want to do. I just need to sit down and lower the bucket a few times."
Zahm first donned the kilt in the early 1990s.
"I'd been singing Scottish and Irish music forever, and it was about time I wore one," he said. "I was singing for people who'd show up wearing them. Besides, he said, "it adds a certain suspension of disbelief. It helps me look the part. If I showed up to sing in jeans, it wouldn't be the same."
Whatever his garb, Zahm wants to keep singing as long as his voice is strong.
"I certainly hope to do this forever," he said. "I don't know if I'll have that gift. I often wonder what I'll sound like when I'm 65 or 70." Still, he said, he would continue singing even if he wasn't doing it professionally. "There's a difference between a livelihood and a life," Zahm said.
- Rambles
written by Tom Knapp
published 8 March 2003